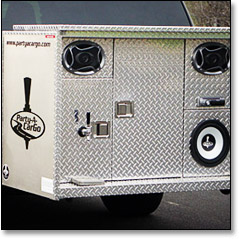 In the ides of summer, the festivities are in full swing—but you've started getting a bit...restless.
Restless enough to take it on the run with the fun-in-a-box
Party-a-CarGo
, packing a portable dive bar on the back of your ride.
Before you depart for the big game—or Big Bear, or your secret oceanside hideaway, or your unsuspecting buddy's backyard, or (sure, why not) the office parking lot—mount the 80-pound aluminum cube on the hitch and let the location scouting begin. When you've found the perfect peak, sandbar or the prized corner spot on P2, just drop in the iPod, turn up the sound and start dispensing beers from the full kegerator within.
No matter how remote the location for your next blowout may be, the contraption's built-in power source will keep things festive for up to 12 hours without a charge, giving your iPod plenty of time to cycle from Architecture in Helsinki to Kenny Loggins to ZZ Top.
Yeah, no idea how that middle one got in there.