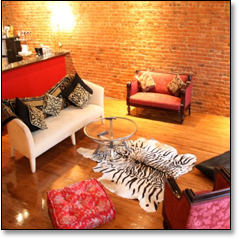 Paris, as you know, has its charms.
Trans-Atlantic flights and the soaring Euro—not among them.
So to get your francophone fix this summer without touching down at de Gaulle, we've got some advice: Head north.
Montreal is a city best appreciated when thawed, and its few sunny months prompt one big party—from the world's largest congregation of stand-ups (think the Cannes of comedy) to the cooler-than-it-sounds annual Hot Air Balloon Festival. And every Saturday, a different nation's pyrotechnic master puts on a fireworks show over the St. Lawrence, lighting up the Montreal skyline (though hopefully not your balloon).
Lest you take on all this madness without a private, perfectly situated home base, we've found you the ideal crash pad.
Bohemia Loft
is like the spacious two-bedroom your Québécois contact loaned you for the weekend: 1,800 square feet to stretch out in, with a gorgeous view of the Plateau Mont-Royal (it's like Montreal's West Village). Step out the door and you're on trendy St. Denis, lined with BYOs and swanky bars packed with bilingual beauties—plus Montreal's best bagel shop, St. Viateur Bagel, just around the corner.
She'll appreciate those in the morning.