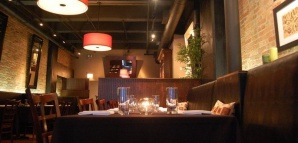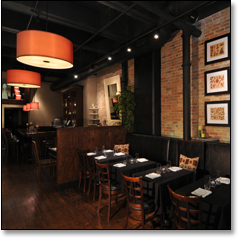 Tattoos are tricky.
Well-executed body art enhances some people's allure (Angelina Jolie), but for others things can go wrong in a hurry (we're looking at you, Winehouse).
So we're happy to report that
Blue 13
, a contemporary American spot opening next Wednesday in River North—and using vintage tattoos as interior-design inspiration—has taken a cue from Mrs. Pitt. They can't do laser on restaurants.
It's all about restraint here: Walk into the dining room and you'll notice tastefully framed vintage tattoo "flash" usually reserved for walls of sailor-filled tattoo parlors. This spot's sexy enough to bring a date, but offers enough rock 'n' roll energy (and a late-night weekend menu) for you and some buddies.
Chef-partner Chris Curren, an inked-up former Zealous sous chef, doesn't restrain himself in the kitchen, however. His
Steak and Eggs on Acid
is a trippingly colorful beef tenderloin on wasabi base topped with quail eggs; his take on shellfish-loaded acqua pazzo promises to be tongue-searing. Starting next Friday, it's your turn to go all out: Reserve the chef's table for you and six of your friends to gorge on the seven-course chef's choice degustation menu.
Even cocktails like the Tabasco-spiked
Filthy
martini offer the right amount of over-the-top-ness.
But we're sure Winehouse would like it anyway.