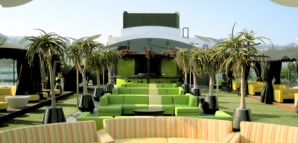 In a town where walking down the street draws a firestorm of flashbulbs, you've got to get really creative to draw attention elsewhere.

Like opening a surreal four-story funhouse of nightlife mayhem right on Hollywood Boulevard. The Kress kicks off its grand opening Friday.

Originally opened as a department store in 1934, the landmark has been pumped with millions to create a 38,000-square-foot amalgam of dance floors, bars, pan-Asian cuisine and special-events hideaways—you may want to leave a trail of bread crumbs to find your way out. Starting at the bottom, the basement dance floor is surrounded by VIP booths and more purple than Prince's house. (If the women you're with are taking longer than usual in the bathroom, it's probably because there's a champagne bar within…where they can rave about you in peace.)

At street level is the giant Asian-themed restaurant and bar, with a sushi counter in the back and, for a bit of privacy (sort of), a "private" chef's table for 12 behind glass walls. Up a bit further is another golden-accented party pen, which can be reconfigured at will to suit your event's needs, VIP room included. And all the way at the top, a citrus-colored roof bar loaded with cabanas and 360-degree views is for decadent lounging.

If it all seems impossible to digest at once, well, you probably couldn't do it all in one evening anyway.

Then again, you've never shied away from a challenge.