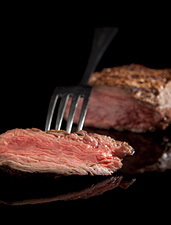 You don't mind doing a little home cooking once in a while.
After all, your version of lobster risotto: legendary. Your ability to eat caviar directly from a tin: unparalleled. But it's all getting a little predictable. So until Betty Crocker markets
Beluga Helper, there's this:
The Culinistas
, a personal chef service ready to take over your kitchen and stock your fridge with... whatever the hell you want.
They arrive freshly battle-tested from that culinary minefield known as the private homes of Hollywood. Gwyneth swears by them. Neil Patrick Harris, too. But we suspect you're not impressed by all that. You just want to know three things:
Can they shop?
Yes. But first you must confess your love of all things truffle, and alert them that you despise turnips. (Groceries aren't included in their fee... so maybe go easy-ish on the Kobe.)
Can they cook?
Well, we're talking about Cordon Bleu–trained and Belly Shack–honed chefs. So... yes.
Can they clean up?
The only trace of their presence will be the lingering scent of beef stew and a fridge chock-full of meals ready to eat—eight dishes in all, sides and entrées ready to mix and match as you see fit.
Sock-folding is extra.