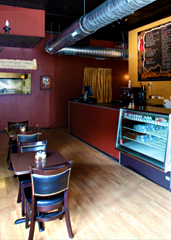 You've made it back from a long weekend, utterly exhausted. So we thought we'd keep today's conversation light.
We're going to talk about pizza.
Also: your eternal soul. Because they're now intertwined.
Introducing
Dante's Pizzeria
, which opened yesterday in Logan Square, offering New York–style slices amid punk rock posters and a
Divine Comedy
motif. (Yes, that old pizzeria cliché.)
So, the name—yes, that would be Dante Alighieri, Italian poet and unbearable pizza snob. An early draft of the "Inferno" posits a 10th circle of Hell reserved for people who put pineapple on pizza. It's true.
The decor here keeps things pretty basic: above the kitchen, the phrase "Abandon All Hunger, Ye Who Enter Here"; and elsewhere, hand-screened punk posters from local bands. Despite the look, we're pretty certain you can find salvation here.
Imagine you've been out investigating hipster bars in Logan Square, and before you go home, you're looking for a little fortification in pizza form. You have two options: 1) Big, floppy and foldable slices with dough modeled after the best spots in NYC. 2)
Specialty pies
. They come in one size, which is "Enormous." The obvious choice is
Inferno
, a fiery mélange of four kinds of hot peppers, giardiniera and bacon.
Say a little prayer before your first bite.