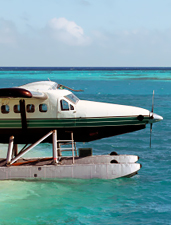 It's Friday, 7pm.
You're somewhere in the Bahamas. Drinking something with an umbrella in it. Looking forward to a packed weekend of back-to-back doing absolutely nothing.
In order to understand how you got here, let's rewind.
6:01pm, leave office.
6:29pm, board private seaplane courtesy of
South Beach Seaplanes
, a service that will carry you from South Beach to Bimini Bay–or wherever else you want to go–available now.
First, the plane: it's outfitted with two water-ready pontoons, and looks like something out of
Cocaine Cowboys
or
Fantasy Island
. There's not much in the way of in-flight amenities, but the crew has been known to crack open a bottle of champagne to welcome newbies to the experience. (And you're welcome to bring your own cooler stocked with refreshments.)
You'll book the plane for a minimum of one hour (enough to get you there and back), and bring up to eight fellow beach enthusiasts. Make your way to the seaplane base on Watson Island, meet your ride idling in the water and from there it's a half hour of gliding over the ocean at a height of a thousand feet until you've reached the island resort/private villa/tiki hut of your choice.
Or anyone's choice, really.