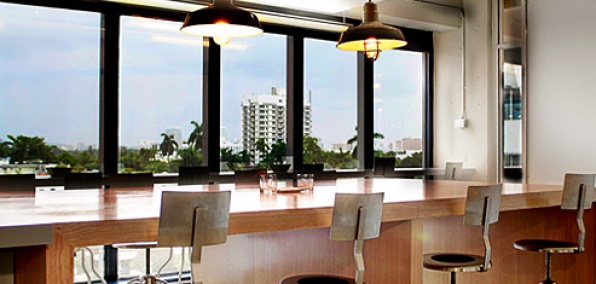 Let's define the typical office.

Cubicles. Desks. Communal kitchen with the lingering scent of microwave popcorn.

Sure, that works for some people.

But you need something a little more flexible. Freewheeling. With easy beach access. And an Xbox lounge wouldn't hurt...

Meet SOBE Work Spaces, South Beach's first coworking office space, now open steps from Lincoln Road.

So let's say you need a dedicated address in which to establish your budding magnetic bikini business (they're a surprising time-saver). You have a few options to choose from here: single desks overlooking the Lincoln Road mall, glass-enclosed offices complete with filing cabinets, whiteboards and room for you and up to five team members/bikini testers.

Your monthly rate: starts at $399. Your chairs: Italian-designed. Your communal kitchen: stainless steel, with floor-to-ceiling windows and a Starbucks coffee machine.

And because your best brainstorming usually happens outside the confines of a desk and a whiteboard, there's a comfortable lounge outfitted with couches, a flat-screen TV and an Xbox set.

The drink caddy is all you.