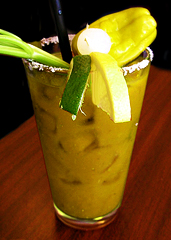 Your relationship with the healing power of brunch is solid.
You do things on Saturday. Brunch is there for you on Sunday.
But sometimes you do things on Sunday.
And you're left staring Monday in the face. Alone.
This seems wrong...
Presenting the
Chilaquile Bloody Mary
, a cross-cultural elixir delivering the best of the traditional Mexican breakfast in Bloody Mary form, available Mondays only at the Blind Cat in the Mission.
In the interest of full disclosure: you're not drinking blended-up tortilla chips and scrambled eggs. Neither of those ingredients actually makes it into the cocktail at all.
But that doesn't mean the cocktail's all a lie. Essentially, they tease out the spice from your basic roasted serrano peppers, jalapeños, tomatillos, onions and garlic, then add a cilantro foam for an eggy/creamy texture. But the pièce de résistance is a few ounces of Pacifico, as the hoppiness mimics the tortilla flavor.
Now, if you're thinking that not just anyone could pull this off, you're probably right. Your drink is in the expert hands of Rob (a seasoned bartender) and Travis, a Saison chef who's somewhat of a Bloody Mary savant.
With that pedigree (and a lot of taste tests), they were able to bring this to you.
Since they're just starting out, they're only making enough for about 50 drinks. So the earlier you come in on Monday, the better.
Of course, that general rule applies every day.