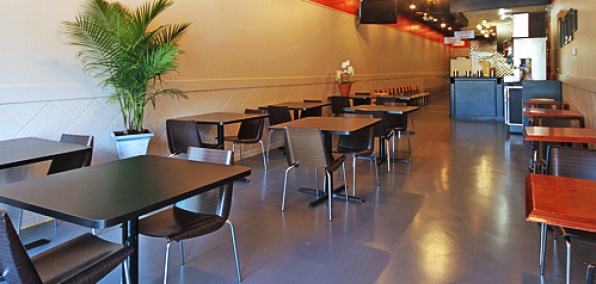 Evanston: a nice place to go to school. To raise a family. To be John Cusack.
Yet, it's a town with secrets... Korean burger joint secrets.
Now one of those secrets can be told:
BopNgrill
, a dealer of elaborately accented burgers, is breaching the Howard Street perimeter and barreling its way into Rogers Park, setting up a Chicago outpost this week.
First, let's go back about a year.
In 2010, the market for Asian-inflected burgers had never been hotter. So a onetime Sunda sous-chef—who honed his ability with Rodelio Aglibot—struck out on his own, bringing a flair with global flavors to 100% Angus burgers in a little Evanston storefront.
Like so many best-kept secrets, this new location is in a strip mall next to a Chipotle. You'll order at the counter—and while you could go the old burger, tomato, lettuce, ketchup route, you didn't come to a strip mall in Rogers Park for that.
Instead, try the Kimchi Burger, with spicy Korean chili paste and a fried egg on a brioche bun (also: kimchi). But the Umami (topped with Japanese seven-spice aioli, truffled mushrooms, sun-dried tomato confit and gouda) or a Triple Bypass (a three-quarter pounder with onion rings, bacon and a fried egg) may also speak to you.
If a good cardiologist doesn't first.