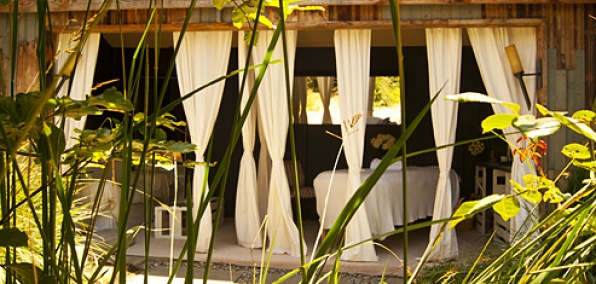 On your weekend to-do list: 
Lay on the beach.
Hang out at the bars.
Rub coconut oil on your friend's back.
With all those grueling chores, you'll probably need a massage.
Obviously, it should take place in a secret garden on Abbot Kinney.
Which brings us to
Odacit
é Garden Spa
, your chance to work out the kinks in Venice's most private backyard, now quietly open.
Next time you need a quality hour-long backrub without seeing a bunch of strangers in their bathrobes, just work your way through a new age-y shop called the Detox Market. (It sells organic things for your face.)
Stay with us here. Because out back you'll find a breezy, totally private, white-curtained oasis for you and only you, surrounded by hydrangea, tall grasses and chirping birds.
Lie down. Feel the breeze. Request a soundtrack involving audible waterfalls. You're all alone back here.
And your deep massage will come with some pretty specific intentions. If you want to feel energized, they'll rub you down with cinnamon, grapefruit and coffee oil. If you want, you know, total inner peace, you should expect to smell some lavender.
Gin brings you similar calm.