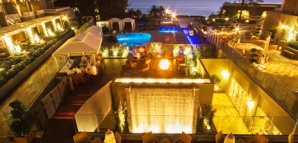 We love the city, but let's face it, we love leaving it even more. Hence Get Out of Dodge, which periodically hooks you up with the best weekend getaways just a short skip away. Get going…

Getaways aren't just about location, location, location.
They're also about timing, timing, timing.
Which is why the renowned oceanside hotel
L'Auberge
Del Mar
made sure to finish up its major renovations just in time for racing season at its world-famous neighbor, the Del Mar track.
Before you even get there, the L'Auberge concierge will be in touch to take care of any special requests in advance—a VIP service you're used to, of course, but here it's done for all guests in the 120 modernized rooms. So once you arrive, all you have to worry about is which bottle you want to take out to your garden patio (since you booked one of the 14 on the first floor), which cabana you want on the new crushed-shell pool deck (the one on the right has the better view) and how best to divide your time between your two great loves—the ocean and the track.
The horses return July 16, and the $1 Million Pacific Classic—when you could add another seven figures to this year's salary, between martinis in the track's exclusive Turf Club—runs August 24. So start planning your getaway now.
Because good things come to those who wait...
But better things come to those who don't.