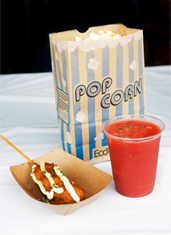 Lolla. You'll be pretty busy doing what you
came there to do
: eat. So we asked
Chow Town
at Lollapalooza
's chief curator, Graham Elliot, and Roots drummer Questlove to serve up their eating strategies. We've also humbly submitted our plan. Consider it a bonus track.
GRAHAM ELLIOT
Plan of Attack:
Never Miss a Meal
Breakfast:
Brunch Dog
at Franks 'n' Dawgs—pork loin breakfast sausage, smoked bacon, fried egg, maple mayo.
Lunch:
Neurosis
 at Kuma's Corner—cheddar, Swiss, sautéed mushrooms, onions, horseradish mayo.
Dinner: 
Kalua Pork
 at Sola, with banana bread and barbecue sauce.
Possible Upside: 
You'll be fully nourished for Grouplove at noon on Saturday.
Possible Downside: 
Possible food coma by Foo Fighters at 8pm Sunday.
QUESTLOVE
Plan of Attack:
Eat Like a Local
Chicago Pizza:
Sausage Pizza
from Lou Malnati's.
Obligatory Celeb Chef Stop: Lobster Corn Dog with Truffle Popcorn from Grahamwich.
Chicago 'Cue Scene: Barbecue potato chips from the Smoke Daddy.
Possible Upside: Getting on Graham Elliot's good side; lobster.
Possible Downside: Hurting the feelings of Connie's Pizza.

UD
Plan of Attack: Drink, Eat... Lick


Booze

 to Drink: 

24-ounce sport bottle of pinot noir

 

from the Wine Lounge. (Yes, there's a wine lounge.)


Booze to Eat: Beer-Fed Cuban Sandwich at Goose Island.
Hangover Relief: Wheatgrass Shots from Tiny Greens (in Green Street).
Heat Relief: Watermelon-Jalapeño Popsicle from Elate/ChicagoLocal.org.
Possible Upside: Rinsing out the taste of wheatgrass with a squirt of wine.
Possible Downside: Burning your mouth on a popsicle.