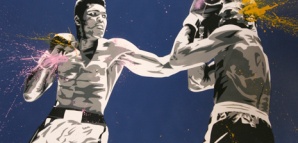 In Hollywood, blockbuster season doesn't just apply to the movies.

Exhibit A—tomorrow's over-the-top art spectacle Life is Beautiful, which is projected to garner some huge opening numbers (and might just be the right venue for your much-anticipated art-scene comeback).

For his first-ever show, the street artist and fledgling French filmmaker known as Mr. Brainwash (or just MBW, to friends) has taken over a giant former TV studio. Starting with tomorrow night's premiere, MBW will pack in admirers who know about his strong ties with tagger-turned-Obama T-shirt designer Shepard Fairey, as well as street-art pioneer Banksy, whose infamous show in our city last year drew larger-than-life figures like a live painted elephant, and Brangelina.

In addition to Fairey himself on the turntables, you can expect to find numerous rooms filled with everything from a giant robot made of old TVs to an installation of 100,000 shoes. And, of course, it wouldn't be a modern art exhibition without all kinds of re-imagined celebrity images, like John McCain in wig and lipstick, Elvis Presley playing a machine gun and an Old West photo with stormtroopers and lightsabers.

After all, Hollywood isn't known for historical accuracy.