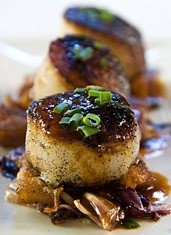 So it's too hot out to be fishing.
But the sea. It calls. Beckons, even.
And you start to get that feeling... phantom sea leg. And you know it's time to get back on a boat.
Only this time you don't need a rod...
Presenting
Capt. Mike's Scalloping Tours
, a charter-fishing experience whereby you'll hunt (and, more importantly, eat) the tasty little bivalves, offered now on the Homosassa River near St. Petersburg.
So we're now two weeks into scallop harvesting season, which lasts until the end of September. So you've got roughly three months to make your way up to central Florida and do your best.
It works like this. You'll recruit up to 11 shellfish-loving friends and make the four-hour drive north to the river. There you'll charter a boat with the essentials: fishing licenses, iced coolers, experienced scallop shuckers and room for your BYO beverages of choice. The captain will then lead you to shallow water and grass beds where scallops like to hang out.
And you, armed with a net, your hands and maybe a snorkel, will dive into the depths and bag the still-in-their-shells suckers. Afterward, everyone heads to a local fish shack, where the kitchen will gladly turn your oceanic bounty into a feast fit for a mermaid king.
Which, incidentally, is your nickname at sea.