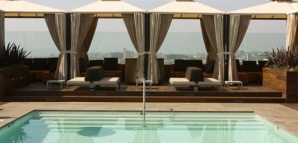 Top of the world—been there, done that.

Top of a Beverly Hills hotel in your swimsuit, with a stiff drink in your hand—been there…but happy to do it again. Welcome to ABH, the new rooftop pool bar atop the Thompson Hotel.

As soon as you step out from the elevator lobby, you'll be greeted by the bar (so the design was well-conceived), shaded by a Sabal Blackburniana palm whose helicopter delivery shut down Wilshire over the weekend. Grab a drink and settle into your private corner cabana—the best place to fuel up for your complete lack of physical activity, with some sushi from BondST downstairs.

Once the pool's swimmable (should be a couple of weeks), you have two options—dive in, or if you're feeling extra-ambitious/voyeuristic, head to the indoor gym downstairs, which offers porthole-window views of the tanned bodies moving gracefully through the blue water above.

ABH (which stands for "Above Beverly Hills") will technically be open only to guests of the hotel—but if you don't want to get a room, we hear that friends of the management shouldn't have a problem heading all the way up after dinner.

Just remember to wait a bit before diving in.