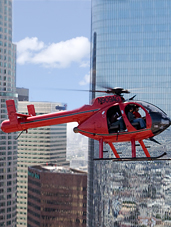 First, you thought it was amusing.
Then, it filled you with real dread.
And now... now Car-mageddon seems like a great reason to pop open some champagne, hop in a helicopter and just watch it all go down.
Presenting
The Car-mageddon Package by Adventure Helicopter Tours
, your chance to view this weekend's chaos from the safety of the skies, taking reservations now.
Basically, it's crunch time. The complete weekend closure of the 405 starts unrolling Friday at 7pm, and at this point your options are as follows:
1) Leave town immediately.
2) Schedule an exclusive three-day house party with your top-tier neighbors.
3) Rise above it all. Literally.
You'll start by calling them up and asking for the Car-mageddon Package, a 45-minute helicopter tour for two that takes off from Whiteman Airport and includes some bubbly on the ground before liftoff. Once in the air, you'll gaze down upon a car-free 405 for the first time in your life (and probably the first time in
its
life).
But you'll also be airborne long enough to catch stunning views of the Santa Monica Pier, the Griffith Observatory and, yes, the Hollywood sign.
No, they won't land on the "D."