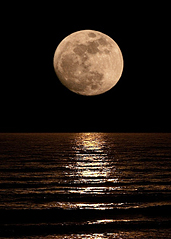 Full moons can make you do crazy things.
Like attend marathon bonfires on the beach with girls named Summer and Galaxy.
Not that there's anything wrong with that (in fact, we encourage it). But sometimes it's best to enjoy nature's majesty in peace and quiet.
While getting a deep-tissue massage followed by flutes of champagne.
Rubbing you in all the right ways is
Moonlight Massage
, a semi-nocturnal alfresco rubdown happening once a month at the Breakers resort in Palm Beach.
First, a few details. This happens only on full moon nights (e.g., this Friday). And there's only one slot available on those special evenings—to book either a single or a couples massage (you'll go for the couples, obviously). And it lasts 90 sweet, sweet minutes.
So let's say you find yourself in Palm Beach about an hour before sunset on Friday. Make your way to the hotel's spa where, after changing into a fluffy robe, you'll be escorted to their private beachfront courtyard, secluded by tall hedges. There, you and your relaxation partner will get kneaded on massage tables facing the ocean, where you'll observe the rising moon in all its lunar glory. In between, feel free to take sips of champagne and bites of chocolate-covered strawberries, both of which are included in the treatment.
Full moons always make you thirsty.