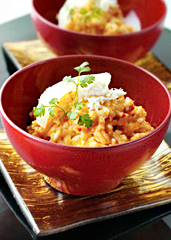 Your culinary skills are legendary.
Your onion-chopping, dish-washing, grocery-shopping skills... well, let's say they're just legends in the making.
So until then, you may want to get acquainted with
Meez Meals
, ready to act as your personal shopper and sous-chef for weekday dinners, taking orders now.
Think of this like Peapod's grocery delivery service taken up the next logical step on the convenience ladder. Groceries come ready to be turned into dinner: they're pre-chopped, pre-measured and pre-portioned in disposable containers.
You'll log on to the site to select the amount of meals you need for the week (between one and five), the amount of people you need to feed and which meals you'll be feeding them. On Monday, you'll receive a box outside your door with all the supplies you'll need for those meals—along with recipes. You, however, are still required to provide one key ingredient: your
je ne sais quoi
. (Though, if you want to throw in some sliced Kobe you have lying around, by all means.)
So when you have a last-minute after-work dinner date at your place, whipping up your famous
Almond-Ginger Broccoli with
Udon Noodles
,
Summer Risotto
,
Black Bean Tacos with Quick Pickled Zucchini
or
Parmesan French Toast with Roasted Edamame Salad
will only take a few minutes. You'll have more important things to do with your time.
Like shaking those martinis.