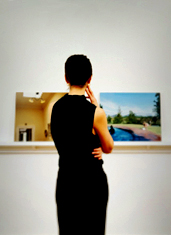 Before you go, let's just double-check your list of July 4 must-haves.
Fireworks: check.
Barbecue rub: check.
Someone to model those star-spangled bikinis: check and check.
Oil painting of Uncle Sam: uh-oh.
Bad news: we haven't found it (yet). Good news: this should do...
Welcome to
Paddle8
, a revolutionary new virtual gallery curated by world-famous artists and the occasional movie star, accepting online bids now.
If you've ever dreamed of having an Oscar-winning actor choose your next masterpiece... well, that's an awfully specific dream. It's also just come true.
Here's the deal: Paddle8 brings in art-world giants, fashion icons and Hollywood celebrities to curate every exhibition, each of which has a deeply meaningful theme. (Okay, kind of meaningful—one is "Stuff.") Then, these luminaries call in a few favors to fill up the exhibit.
Now, before you call your pedestal guy, you need to become a member by getting in good with artists, gallery owners or the curator. Or, you know, you can just fill out an application. (
We can help
.) Once you're in, we have it on good authority you'll soon be taking collecting advice from an Oscar winner.
And Cuba wouldn't steer you wrong.