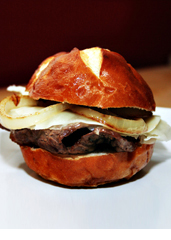 Some people think small. That's just who they are. You, on the other hand, have always been a dreamer, a radical, an architect of your own grand odyssey. You think big.
Except when it comes to sandwiches. There, small is fine. As long as you make up for it in volume.
So good news: today The Slide Ride hits the streets, spreading the gospel of slightly smaller-than-average sandwiches, one mouthwatering rib eye slider at a time.
Unlike your usual first experience with these food-slinging carriages—this one's a bright pink doozy with a short-skirted waitress silhouette on the side—tonight's debut won't be a Twitter-chasing exercise. They'll have fixed coordinates at the Food Truck Summit in Lincoln Park.
Tomorrow, however, when it's lunch and you aren't quite sure what you're hungry for, track this baby down. Sure, for a while, you'll vacillate. You'll consider rib eye provolone with stout-caramelized onions, then the Mexican chicken with tomatillo salsa, then the sun-cured tomatoes with mozzarella, pesto and balsamic glaze. Around the time you're debating between sweet potato chips and Red Velvet Truffle Balls, you'll realize you can just order everything.
Truffle balls bring clarity to any situation.