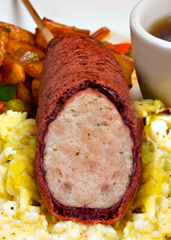 You're going to skim this. It's okay.
You've got a million places to go, and a million things to do. We understand.
So go ahead, skim. Thumb scroll. Do what you need to. We'll make this very, very digestible for you:
Sausage. Red velvet pancakes. Together. On a stick.
Introducing
Red Velvet Sausage
, a magnificent advancement in the way you consume brunch—not to mention things on sticks—available this Sunday at Hearty.
Now, you've seen foods on sticks before. (Taste of Chicago's siren song has seduced us all at one time or another.) You've seen pancake-wrapped sausage before. (Pigs in a blanket—also seductive.) And then, of course, there's that frozen Jimmy Dean chocolate-chip thing you wouldn't touch with a stick—and that
comes
on a stick.
But this is different. This is genius. It transfers the cocoa-y complexity of red velvet, usually reserved for cakes and bordellos (note to idea file: a cake bordello), into the realm of fluffy pancakes. Then, handcrafted chicken-apple sausage is dipped into that realm. The result: a sweet-savory-salty mélange of pleasure.
Red velvet, of course, isn't complete without cream cheese frosting (also handy in bordellos), so you'll find cream cheese whipped into your scrambled eggs. Finally, there's bourbon brown sugar syrup.
To gild the gilding.