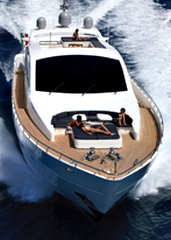 Sharing. Compromise.
Not your favorite things. But over the years, you've learned how to work them in your favor.
It started with building blocks. Then, your place. And now, of course, your 40-foot schooner...
Introducing
Nautical Monkey
, a social networking site for boat owners looking to split time on their vessels, online now.
Think of this as a Facebook for people who, perhaps like you, want the privilege of boat ownership without the burden of having to spend
every
evening sipping rosé on the Chesapeake at twilight.
Let's say you're in Newport Beach, getting ready for an Independence Day Transpac Regatta challenge. You've plotted your route and studied the weather patterns. But the guy you own your boat with is claiming it for his weekend sail into Baja. (We've all been there.)
You'll go to this site. If any nearby marinas have a registered catamaran, you'll see a calendar of what days it's available and how much each day will cost. And then, if somewhere between the pitchers of sangria and the impromptu high dive competition (the Swedish judge is tough but fair) you feel the urge to buy the ship, you can use the site to find some boat lover willing to go in on it with you.
An "it's complicated" status isn't far off.