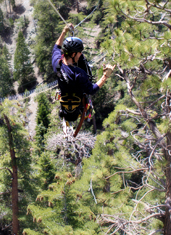 Eighty and sunny.
Days like this, you want to rise up from your desk, leave the office behind and just take a death-defying leap into that big blue sky.
Though you wouldn't say no to some sort of harness.
Welcome to
Navitat Canopy Tours
, a new adventureland of ziplines, rappels and rope bridges not far outside the city, now booking online for its July 1 debut.
If the Swiss Family Robinson set up a zipline course, it would look a lot like this: 300 acres full of bridges, platforms, rappels and no fewer than 10 ziplines. (You wouldn't make the trip for nine.)
To get there, you'll drive about 75 miles northeast of LA. Then, after a 20-minute orientation and a quick ATV ride, up you go. The highest zip is about halfway through the course, when you'll find yourself soaring 300 feet above a huge canyon, then they start getting longer... and faster. 
Along the way, you'll take in stunning views of San Gorgonio and the Mojave.
And your stylish yet functional sneakers.