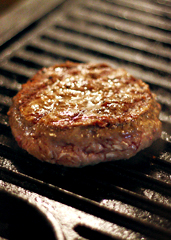 You have a high standard for barbecues.


The dress code: black tie. Your spatula: stainless adamantium. Your apron: cashmere.
And at some point, you're going to need some food...
Allow us to present Pat LaFrieda Meats, a line of grill-ready patties and sausages from one of New York's best-loved butchers, shipping nationally for the first time this month.
If you've ever ordered the famous Black Label Burger at NYC's Minetta Tavern (or The Natural at Burger Kitchen in LA), then you'll be familiar with the butchers behind this—and now they're doing the same thing for your barbecue. Thanks to the magic of shipping, you can get the same velvety beef delivered anywhere in the country. And when they say Ultimate Burger Blend, they mean it.
Of course, man does not (quite) live by cheeseburgers alone, so you'll also have ground beef blends designed for meatballs, turkey burgers and meatloaf, along with a few sausages. And if the ultimate blend is a little too lean for your liking, you can fatten it up with the Brisket Burger Blend, or add a little pork shoulder for variety's sake.
Also, for pork's sake.