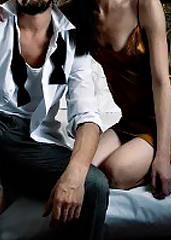 We're lovers. You know that. But every now and again, something comes across our desks that just seems... suspicious. Because of the tremendous material upside to all our lives if these claims pan out, we at times put ourselves in harm's way to investigate. Albeit skeptically.


We call it: Skeptical Investigation. (Copyright pending.)
THE CLAIM

A little outfit out of Bern, Switzerland, called Scent of Love is claiming to have unlocked a scientific process to predict sexual chemistry through smell. They say it's a matter of matching up subtle variations in personal scent. So if you and your date have complementary proteins, her natural scent will drive you just a little crazy. It's all very Swiss.
THE INVESTIGATION

The magic starts with a kit that they send you, containing a tiny receptacle and a measuring stick. First, you'll need to fill the sample cup. (Don't worry, it's just spit.) Dip the measuring stick in the sample for a few minutes and you'll get a mysterious readout of your protein composition, which the website will translate into a color-coded scent profile... which is roughly when the fun begins.
THE VERDICT

The good news: after introducing our pheremonal guinea pig to compatibly scented women, we can testify to the sparks. The bad news: no stateside dating services have started using the tests, so you're on your own for a while. Unless you happen to find yourself in Bern. In which case, brace yourself...