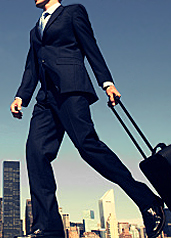 What a ride—Butler's injured knee. Terry's tattoo. Last night's champagne fight with Brian Cardinal.
In fact, there's only one thing left to do: head to Germany to celebrate with Dirk's family.
Oh, and figure out how to get there...
Enter
Rome2Rio
, a new website that helps you find the quickest routes by plane, train or automobile, online now.
Think of this as having a personal consultant for those times when you're not sure whether you should travel from the D to Lagos by plane, or plane and train—and you already lent out your private jet. (Bono had a thing.)
So you, J.J. and Dirk decide to kick off your two-month celebration tour in Munich. You'll head to this site and enter your current coordinates. If you don't have an address (remote villas have their downside), click on your approximate location on the online map. Then type in your destination city and enter the number of people you have coming (turns out the Mavs girls love biergartens).
Then you'll be presented with all your travel options—available plane tickets, open train seats, ferry spots—which you can compare by travel time and price. A couple clicks later, your tickets are purchased and it's off to Munich.
Don't forget the Larry O'Brien Trophy.