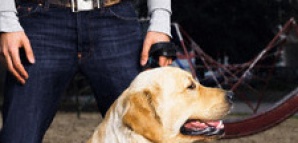 You do everything together—eat, lounge, meet cooing women…

Now you and Max can feel the burn together, too. Classes begin today at Thank Dog Bootcamp, a hardcore exercise program for you and—yes, believe it—your four-legged best friend.

The regime is no walk in the park (though classes do take place there). The three female founders are descendants of Barry's Boot Camp—the not-for-the-soft workout school famous for tightening myriad actresses/models, and for gifting a T-shirt to any new recruit pushed hard enough to lose his lunch. (They gave away quite a few shirts.)

After an initial consultation, you'll join a class with a maximum of 15 human-canine pairs for 60 minutes of nonstop, drill sergeant-led conditioning that's a mix of weight training, cardio and obedience. (That last one is more for the mutts—though it wouldn't be the first time you've been told to behave.)

If you're pooch-less at the moment but you'd like to spend a little time with that stunning brunette with the chocolate Lab, no problem: Thank Dog has hounds you can borrow.

We think this tactic might be a bit extreme.

But then again, a lot of women seem to like a guy with dogged persistence.