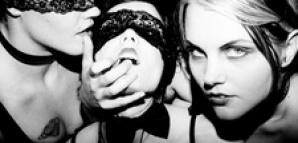 If beauty is in the eye of the beholder…well, someone's got to do the beholding.

So you might see it as your duty to stop by Saturday's illicit signing party for From the Inside Out, especially once you hear about the secret stage out back where a bevy of models will…well, we'll get to that in a moment.

First things first—the book getting signed is photographer Alexandra Gibson's latest collection of snapshots featuring assorted pairs (and triples) enjoying the pleasures of each other's company. They're the types of photos that show skin and might involve some leather and a mask, but, you know, tastefully. And the shop-turned-gallery is Coco de Mer, the upscale Melrose sex boutique with peepholes in the dressing rooms.

So after securing some gratis liquor and checking out Gibson's photos, head for that stage in the rear garden to see art in the making—i.e., scantily clad models posing and vamping amid a live photo shoot. (Because seeing the artist at work never fails to illuminate.)

It's all happening in conjunction with the West Hollywood Art & Design Walk, so there'll be thousands of people flooding the streets outside with no idea what's taking place within.

Art can be a cruel, cruel world.