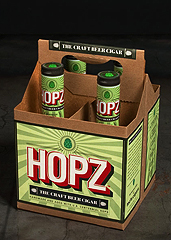 Dads.
For the most part: an unceremonious lot.
And when it comes to Father's Day, yours would probably be satisfied with nothing more than a firm handshake, a cold beer and a few pulls from a tightly rolled cigar.
Or better yet, a cold beer
inside
of a tightly rolled cigar.
Kind of...
Introducing the
Hopz Craft Beer Cigar
, the world's first cigar infused with Centennial Hops and quite possibly the easiest (sorry, best) Father's Day gift ever, available now.
The guys behind this sudsy new phenomenon are the same ones who've been churning out cigars infused with bourbon, Grand Marnier and pistachio liqueur for quite some time now. Which, among other things, means that the booze-stick pedigree is strong here.
So as the season of paternal gifting draws near, you'll want to hop online and pick up anything from single sticks to four-packs to the ever-formidable 25-pack. You'll be able to find them at cigar shops all over town soon enough. But for the time being, if (and when) you find yourself giftless at crunch time, you can pick some up locally at Dekalb Bottle House (yes, the slightly awkward package store off Briarcliff with a drive-through).
Either way, come June 19, Pops will be smoking a surprisingly smooth Dominican cigar with just enough hoppy flavor on the finish to pair seamlessly with a cold IPA.
It also pairs seamlessly with a bunch of cold IPAs.