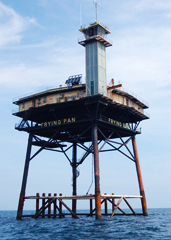 Welcome back.
As you may have noticed, after 72 hours of wild abandon, your job, your apartment and your lobster roll shop of choice are just the way you left them.
Which means it's time to start planning another getaway, to somewhere even more far-flung.
And we hear the middle of the sea is lovely this time of year...
Welcome to the
Frying Pan Shoals Hotel
, a rooming house on a raised platform 30 miles off the Carolina coast, taking reservations now for the summer.
Back in the '60s, this was an impromptu lighthouse warning tankers away from shallow water—but after a few years of rehabbing, it's now devoted entirely to serving wanderlusty sea-dwellers like yourself. So when you find yourself hightailing it out of Myrtle Beach on a borrowed catamaran, you'll have somewhere to hole up for the night.
The rooms are the offshore equivalent of a '70s rec room—think cloth couches and concrete floors—but the sunset alone should be worth the trip (it's a half-hour helicopter ride from Wilmington, NC). The tower itself is still a work in progress, so you'll have to do without necessities like cell phone service. But you'll be able to eat your breakfast in a lighthouse, or take a quick ride to deep ocean for a little sportfishing.
Or just an unusually daring cannonball.