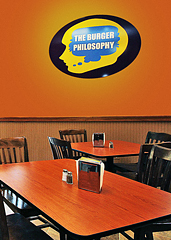 You've got a big weekend ahead of you, so let's keep this simple.
Burgers. Shakes. Descartes.
Welcome to
The Burger Philosophy
, a down and dirty burger joint, soft-opening Monday in Andersonville.
The first thing you should know is that this place is philosophical about its burgers. Very philosophical. As in giant-quote-from-Confucius-painted-on-the-wall philosophical. (Though we suspect "I hear and I forget. I see and I remember. I eat a burger and I understand" may be a paraphrase.)
Mostly, you'll think of this as an out-of-the-way lunch spot when you want something quick but satisfying. The decor's not much, but you're
here for the burgers
. There's the
Tropical Bud
, a teriyaki-glazed beef patty topped with grilled pineapples, or the jalapeño-spiced
Devil's Advocate
, each available on a pretzel bun. (We hear that lamb burgers and cheese-infused patties are on their way.)
Your pairing options include
Greek Fries
—sprinkled with oregano, feta and lemon juice—or a range of shakes, including one spiked with Nutella.
Confucius wants you to have this.