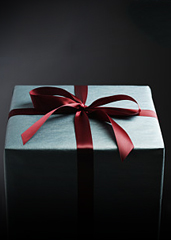 Benefit of the doubt, sure, we'll give it. But every now and again, something comes across our desks that just seems... suspect. In the most intriguing of these situations, an investigation is warranted, albeit a particularly skeptical one. We call it: "Skeptical Investigations" (copyright pending).
THE CLAIM

A new website, Gnift, promises to deliver personalized gift recommendations for everyone you know—friends, colleagues, Dad—based on their Facebook profiles.
THE INVESTIGATION

The following potential giftees were chosen to reflect the widest possible range of people. Also, this thing reminded us that their birthdays are next week.
Our lab team got the following results:
For the IT guy:
Canon camera lenses, a refractor telescope and a DVD box set of the visionary '70s sitcom Chico and the Man.

For the bartender who makes a mean Old Fashioned:
Prosimmon Graphite Hybrid golf club set, hockey sticks and a DVD box set of Chico and the Man.

For Morgan Freeman:
An adjustable cheese slicer, a $1.60 sailor's cap and... a DVD box set of Chico and the Man.
THE VERDICT

We wouldn't trust it to buy gifts on its own, but it did remind us that Dad could really use a new putter... And you can't go wrong with Chico and the Man.