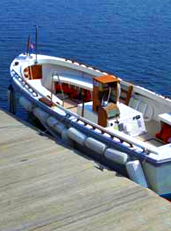 Captain Jack Sparrow.
There's a bloke who knows how to party (and sport a mean gold tooth). Roaming from port to port. Pillaging. Philandering. Rum-ing.
Now picture you as the good Captain while in Boston Harbor, chartered along on your very own fleet of mini
Black Pearl
s...
Introducing
Cityside Harbor Shuttle
, the new way to barhop across five different wharfs along Boston Harbor, setting sail for the first time this Friday.
So say you're kicking off the weekend at the new hot spots at Liberty Wharf. Just bouncing around between
massive steaks
, watching the
Bruins playoffs
and sampling
a few hundred tequilas
.
Suddenly, a text comes in from your Charlestown buddy: "Models. Tavern on the Water. Now." You'll head to the dock out back and hop on the dinghy waiting to shuttle you atop the waves to Tavern on the Water. Without setting foot on Atlantic Ave.
You can hop on or off whenever a shuttle has arrived, and don't worry if you miss one. There are three vessels in constant rotation between the five docks (Fairmont Battery Wharf, Fan Pier, Tavern on the Water, Liberty Wharf and the Barking Crab), and there's always another one on its way—be it the
Precious Time
, the
Sadie
or the pirate-themed, salty
White Pearl
.
As far as we know, there will be no evil cursed monkeys on deck.