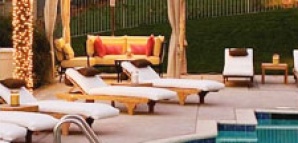 New Yorkers have officially instated "summer Fridays" (all the better to reach the Hamptons before sundown), and we think it's high time to bring the concept west.

We're not the only ones, either—Villa Malibu is now leasing summer properties by the water, with all the perks of a getaway and none of the difficulties of actually...getting away.

Available for anywhere from one to three months from June to August, the fully furnished residences come in varying sizes and layouts—but expect plenty of outdoor space with the requisite Malibu view of glistening ocean and towering mountains. Sure, you could still make it to the office, but you could also make the office come to you (or neither).

When you're feeling social, hang out with your similarly leisure-minded neighbors at the pool (or, if things seem to be going well, even inside your private cabana). And when you need to stray from the villa, summon a beach porter, who may be entrusted with the task of getting you, your date, your lunch and your (well-hidden) alcohol to and from Zuma Beach.

From which spot you're likely to think, "Yeah, New York can keep those Hamptons."