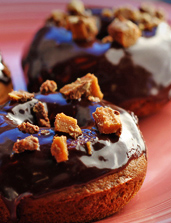 The city's current obsession:
donuts
.
Lining up for them. Blogging about them. Friending them on Facebook.
Your new obsession: eating them.
Meet
Dirty Betty's
, a sexy little pusher of artisanal breakfast pastries, opening bright and early tomorrow morning in Lincoln Park.
You may know this place as Cookie Bar, an early pioneer in the fine art of combining cookie dough with '70s disco balls. It's still there most afternoons, but from now on, it wants to be called Dirty Betty's in the morning. And you're okay with that. With 10 kinds of donuts
a day, every day, the bribery potential alone is virtually limitless.
Swing by before work, and grab some strong coffee and a dozen for the office. You know your crotchety old managing partner won't be able to resist even something sensible like an
Old-Fashioned Powdered Sugar
, and for the tech guys, an
Espresso Glazed
. (Boom—BlackBerry issue resolved.)
Save the best for that girl in HR, the one with a sweet tooth and access to your vacation days. Arrive bearing banana donuts with chocolate Nutella glaze or a chocolate donut with peanut butter icing.
The five-day weekend is one step closer to reality.