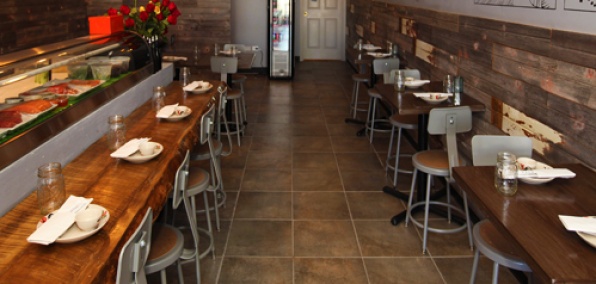 Last week, you wanted to go big... and you pretty much nailed it.
Your sushi rolls were enormous. Your thirst for sake, unquenchable. Your
Japanese restaurants... multistoried
.
This week, you need to catch your breath. So, goodbye stairs and hello...
Yuzu Sushi and Robata Grill
, an out-of-the-way little cabin of sushi and grilled skewers of Japanese delights, now open in East Ukrainian Village.
You may have just found your new secret BYOB date spot: an off-the-beaten-path place, with 130-year-old barn wood paneling, a knotty pine sushi bar and manga on the wall. Basically, it's Okinawa fishing shack by way of Tokyo comic shop.
And because you're getting pretty used to this whole robata thing these days, ordering should be easy: come here, sit down and use three of your favorite words ("one of everything") before meandering through the world of short ribs marinated in miso, bacon-wrapped asparagus, pork shoulder in honey-garlic sauce, et al.
There are rolls, of course, many of which pay tribute to great American cities:
Motown
,
South Beach
,
Philly
and the
Chicago Spring
.
Oh... so that's where it's been hiding.