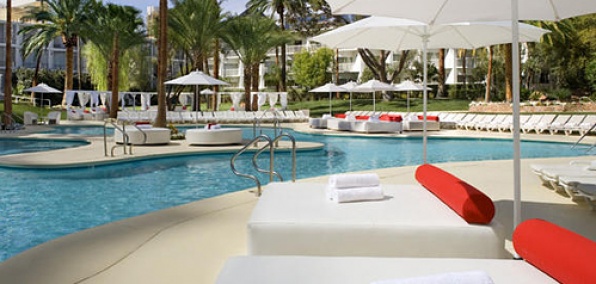 Your weekend plans this time of year can get formulaic.

Swimming pools, Dark and Stormys, volleyball with bikini models.

Wait, we added that last one...

Introducing Nikki Beach Club, the franchise's newest blanc-on-blanc oasis bringing Saint-Tropez style to the—we'll call it old-school—Tropicana, and your next go-to for champagne-fueled day-to-night debauchery, opening May 26 with a Memorial Day white party (naturally).

If someone were to boil South Beach down to its essential elements—sand, a boardwalk, white art-deco-style facades and plenty of white linen—and import it to the Strip, this is what it would look like. Except with swim-up blackjack.

So on a typical afternoon, you'll be sipping mojitos in a poolside lounger under the massive palms, pondering the myriad differences between Octavio Paz and Paz de la Huerta, when a transient foursome of bikini-clad sand volleyball players asks you to sub in (we told you this would happen).

After you work up an appetite on the sand, head back to one of the club's private tepees, order some lobster corn dogs and a royal caviar omelet, and mentally prepare for the evening ahead.

And if the Memorial Day white party is anything like those at this outfit's eight other international spots, expect plenty of startlets, Russian oligarchs in Panama hats and a multiplatinum hip-hop artist or three inviting you to partake in some gratuitous champagne-spraying.

Which you'll have to respectfully decline.