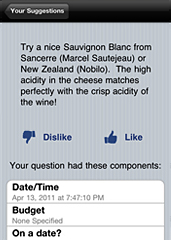 You've got a summer home in Napa. Your ancestors' name was Cabernet. You wrote an unproduced opera about grapes.


What we're saying is: you know wine. Still, you're not above calling in a little backup...
Introducing Wine Guy on Demand, a real-life sommelier in the form of an iPhone app, available now.
Think of this as having a personal sommelier on call, 24 hours a day. The gentleman behind this thing: Michael Bottigliero—International Sommelier Guild member and wine master at spots like the Tasting Room on Randolph and the InterContinental Hotel in Chicago. (He may also know your hot dog guy.) And thanks to technology, he's turned himself into an iPhone app (well, figuratively), so you can get recommendations whenever you need them, at 99 cents a pop.
So picture the following scenario: it's this weekend. You need a light, summery red that goes with both Worcestershire-infused steak and rum-infused watermelon. (It's going to be a great barbecue.) You can pull out your phone, enter your wine budget and/or dinner plans into the app, and Michael will write you back with the perfect bottle.
And, if necessary, relationship/medical advice.