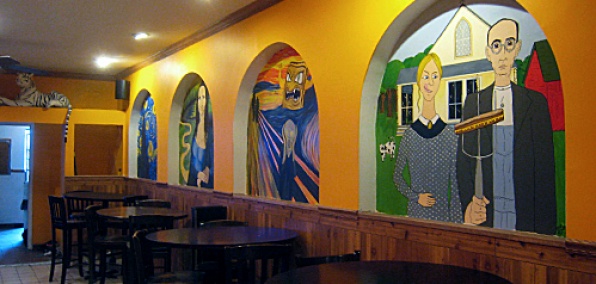 It's been one of those insane Saturday nights. Things are... fuzzy.

You're not sure what time it is (for the record: 3:21am). You're not sure where you are (it's Berlin—yes, the one on Belmont and Sheffield—but don't worry, we'll tell everyone Trader Todd's). You're missing a shoe (hey, don't look at us).

Finally, you don't know how you're going to survive Sunday morning.

The answer: Cheesie's Pub & Grub, slated to open tomorrow as your new hookup for when it's late and the only thing standing between you and total annihilation is a foot-long jalapeño popper grilled cheese sandwich.

Think of this as what Taco & Burrito Palace #2 would be if they served massive grilled cheese sandwiches rather than massive burritos. The place has cheddar-colored walls, and murals depicting great works of art emboldened with the addition of grilled cheese. They'll serve microbrews and booze until 2am, and stay open until 5am. They're toying with going 24 hours. As they should be.

For right now, saunter in around 4am or so to consider one of their nine sandwiches: e.g., Reuben Grilled Cheese, Baked Potato (stuffed with french fries, bacon and chives, with a side of sour cream for dipping) and the Chicago Dog (a hot dog fully encased within a grilled cheese sandwich). Choose your bread: Texas toast, cheddar cheese, sourdough. Finally, your size: regular or foot-long.

Go big or go home.