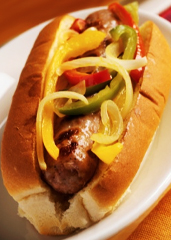 There are things in life worth waiting for.
A really good hot dog, of course, is one of those things.
But time is short. Life is precious. And your assistant has better things to do than wait in line for your lunch. (Your pocket squares aren't going to double-point fold themselves.)
So it would be nice if that sausage could at least meet you halfway.
Prepare yourself for niceness:
Haute Sausage
, the city's newest food delivery vehicle, is prowling the streets of the Loop to improve your lunchtime encased-meat options.
Basically, this is like the Wienermobile with a culinary degree (and sans the gaudy, hey-look-at-me exterior). In fact, think of this as what would happen if a place like Hot Doug's or Franks 'n' Dawgs suddenly sprouted wheels, a steering wheel and an innate sense of direction.
This truck offers a pair of rendezvous points in the Loop, which are listed on its website. So when you're overcome by the familiar urge for something Wisconsin-ish (e.g., a Sheboygan Brat with mustard seed sauerkraut) on a thick bun, you'll be all set. But if you're hungering for something less Midwestern, there's also Chicken Masala sausage, South African Boerewors Chakalaka and the Greek Australian, a mint-infused lamb sausage in sauce tinged with Vegemite.

Still better than ketchup.