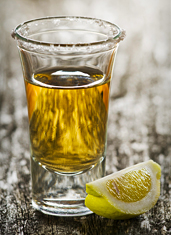 Relaxing with some tequila is nothing new—but even in extreme cases, you've always stopped short of having it poured all over your body.
Silly you.
Introducing
The Punta Mita Retreat
, a new massage that lets you Zen out while getting tequila and salt kneaded into your skin, available now at the spa inside the Four Seasons.
In short, this is a 90-minute ticket to becoming a human margarita. (Never give up on your dreams.) You'll work your way to the fourth floor of the hotel, open up your pores in the sauna before your appointment and then—it begins.
Now, when making a margarita, first you'd rim the glass with salt. Here it's not that different, except the coarse salt will get rubbed all over your body, with a bit more muscle and vigor. They say it'll exfoliate your skin, and maybe even take years off your triceps.
Eventually, you'll shower it off, climb facedown on the bed, and your bartender/masseuse will pour something on your back that smells strongly of tequila. (There's some sage in there, too.) She'll rub it in and eventually move down to work the soles of your feet. It's all supposed to promote a deep, profound sense of calm.
Experience supports this hypothesis.