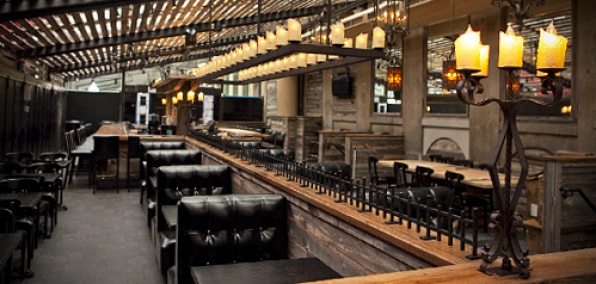 Marathon Monday. It's here.
And since you made the effort to check your email mid-stride (nice work on passing the guy from Tanzania, by the way), we thought we should make it worth your trouble by bringing you some big news.
New tequila-haven news, specifically. In Faneuil Hall, to be even more specific.
Introducing
Mija Cantina & Tequila Bar
, the reason you'll now think of Faneuil Hall when outdoor tequila and pork tacos are on the mind, tentatively opening this Saturday.
We know: Faneuil Hall. Normally reserved for out-of-town friends or to relive the glorious college spirit. However, it's also now home to your newest rustic oasis of
100+ tequilas
, surrounded by wood that once held the snow off the highways of Wyoming (call it Mexico by way of Cheyenne).
To start, you'll step inside the old Cheers Faneuil Hall space with a few buddies and order up
a round of La Sols
, made with tequila, aloe vera and Jarritos, a sugary Mexican soda. Then, you'll take your drinks and your
slow-cooked pork quesadillas
out onto the 70-plus-seat patio, the perfect spot for meeting tourists from faraway lands (think: Austrian women's volleyball teams).
As night falls, you and your new friends will move inside to a table for rounds of
Blue Granada
margaritas (tequila, blueberry pomegranate) under the glass roof.
Finish it off with a round of 200-bucks-a-shot 1800 Coleccion Añejo tequila.
Go ahead, make it a few rounds.