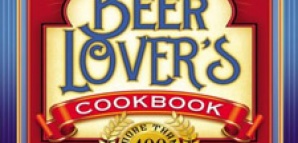 A truly refined palate can easily detect the singular missing ingredient that would elevate a dish from average to extraordinary—as it happens, that ingredient is usually beer.

So there's much to be admired (and by admired we mean ingested) within the pages of a new modern-day classic called The Ultimate Beer Lover's Cookbook.

Cheerfully casting aside the tired notion that beer consumption should be limited to the evening hours, the author (a descendant of famed 19th-century brew purveyor Peter Straub) includes more than 400 recipes, all using beer as an ingredient, that are suitable for any hour you're awake. In the morning, beer-splattered Buckwheat Pancake Rolls with beer-infused Pancake Syrup. At lunch, beer-glazed Tangy Barbecue Elk Brisket. And later, a Beer Burger with an impressively redefined Root Beer Float.

Of course, for a classier evening in, you'll light the candles, put on some low music—and seductively unveil the surprising incorporation of a fine lager into your Squirrel Dinner for Two. (To really bring home the romance, a beery new take on Chocolate-Dipped Strawberries.)

If you're strictly playing bartender for the evening, you'll find enterprising concoctions that welcome beer into every liquor family with open arms, from a Beertini to The Original Beer Margarita.

But after all that spectacular beer on a plate, beer in a glass suddenly seems a bit...unfortunate.