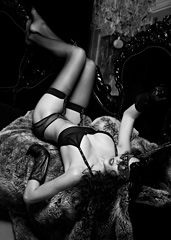 You know how to categorize your nightlife.
There are spots where you go to be seen (like when your speaking role in that infomercial is airing), and those that are better suited to thoughtful observation of others (the concept of a full split is something you'll always find fascinating).
And then there are places owned by the Pussycat Dolls...
Introducing the
Gallery Nightclub and Pussycat Dolls Burlesque Saloon
, a multiroom mega-club that's as much a seductive paean to voyeurism as it is a place for conspicuous behavior, opening next week at the Planet Hollywood Resort & Casino.
It's sort of like a night at the (particularly raucous) museum. You'll wander through the candlelit rooms of Gallery, considering the art on the walls and the lingerie-clad waitress beside you. The Red Room's 3D photos will give you the distinct impression that you're being watched, but the Gold Room is all about observation—mostly of a striptease in a rhinestone-studded bathtub.
As you continue your tour, you'll find your way through the main room, where DJs (including Cee Lo for opening weekend) will hold court over a massive dance floor—but we'd be remiss not to send you to the Pussycat Dolls Burlesque Saloon, an intimate, bedazzled space decked in rhinestones where Dolls will perform on the bar and regular ol' girls-next-door will be dancing on sparkly carousel horses.
It's not rude to stare.