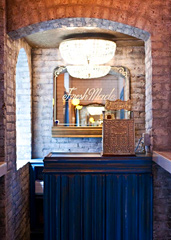 You're ready for anything: Fire. Flood. Meteor. Doughnut riot. 
So we're issuing a General Doughnut Advisory for the corner of Franklin and Kinzie.
Be on the lookout for
The Doughnut Vault
, a walk-up window in a former vault, which right this very second is doling out dough once again...
Then again, maybe it's not...
You see, this being a purveyor of that precious commodity of doughnuts, the owners (also behind Gilt Bar, to which this is connected) are keeping it very low-key. They're not big on things like regular operating hours or phone numbers. Even the bakers go by the
noms de pâtisserie
Francois and Henri.
But say you're strolling along Franklin Street, whistling nonchalantly. You'll happen upon an arched window dotted in an outline of blue bricks. If someone is selling doughnuts from it, then they're open for business. If not, they have already run out: they'll bake a set amount and then close shop for the day once the goods are gone.
An old-timey sign on the wall touts
Buttermilk Old-Fashioneds
,
Chestnut Glazeds
and 
Gingerbread Stacks
—three mini doughnuts coated in a cinnamon glaze—along with $1 French press coffee. Eventually, you'll find other flavors (most importantly:
Bourbon Cream
), and the option to order in bulk so you can bring some back for the office.
You love to play hero.