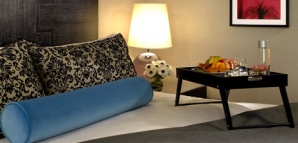 Introducing a welcome new way to beat Westside traffic—get a room.

Opening tomorrow, Hotel Palomar aims to make the notion of actually going home at night seem kind of...outdated.

Flee from the office before sundown and start your recharging in the modern lobby's living room, where hotel guests will converge for a gratis wine-soaked happy hour every evening. Once lubricated, you'll be in a better state of mind to appreciate the not-so-subtle nods to Hollywood throughout—Industry-ready conference suites are named after film festivals, and classic movie quotes will soon appear upon your pillow at turndown (hopefully nothing from Psycho).

Of course, you don't have to stay overnight to ride out rush hour with a glass of vino. Blvd 16, the wheat-colored restaurant and bar within, opens Saturday with a list of 125 bottles to go with seasonally minded food that should keep you busy (and by busy we mean devoid of road rage).

And by the way, nobody says you have to use the room for the whole night.