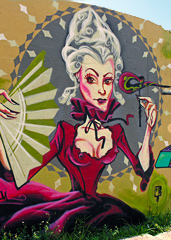 Let's skip ahead to the weekend.
You're in the mood to check out some art. And you're also in the mood to take a mid-morning Vespa ride. Oh, and you're in the mood for the fluffiest french toast in the city.
You're in luck: Roam Rides just launched
Miami Art Tours
, your first chance to tour the Wynwood gallery district on a Vespa, now taking reservations.
You may already be familiar with
the Roam folks
—the ones who
will deliver and pick up your bike or Vespa anywhere in the city. Now you can take advantage of their fleet of Italian scooters while breezing through Wynwood's graffitied gardens and outdoor murals.
First, recruit an Audrey Hepburn-esque chanteuse interested in street art. Then, meet at the park on Purdy Avenue, where you'll get matched with a scooter before speeding away on the Venetian. In Wynwood, a local artist will guide you past warehouses and highway overpasses embellished by the likes of Shepard Fairey and Kaws. At the end, everyone stops for brunch at Morgans for the aforementioned french toast.
For now, they're only offering the graffiti tour. But soon your options will include one where you'll scope out indie galleries and another that will take you inside the mini museums owned by the Rubell and the Margulies families.
Sort of like that time you Vespa-ed through the Louvre.