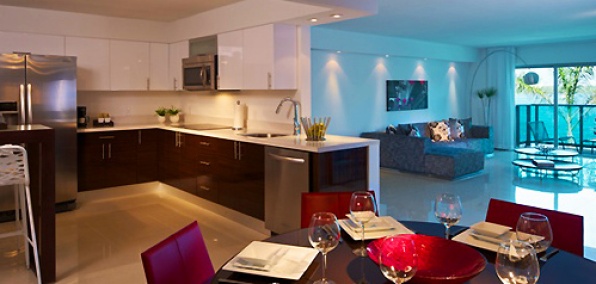 Privacy.

It's a rare luxury (as are its cousins, mystery and discretion).

But there are times—say, when the paps snap you seducing the boss's ping-pong instructor—when it's a necessity.

Which brings us to Quarzo, a nearly invisible boutique hotel on the water, now open steps from the ocean in Bal Harbour.

Think of this as having a tasteful pied-à-terre right on the beach. (Another one, that is.) The location: discreetly tucked away past the Bal Harbour bridge, in a waterfront area primarily reserved for residential buildings.

The place was originally intended to be a two-story condo building, so you'll find that the rooms are massive and apartment-like. Which means you'll have a fully equipped kitchen (bring your own personal chef) and a living room outfitted in mod Italian furniture (bring your own Italian heiress).

If you get the urge to bask in the sun, there's an outdoor Zen garden and a hammock-laden solarium facing the bay. You'll also have access to one of the quietest pool scenes in the city during this time of year.

It's the cousin to tranquil and relaxing.