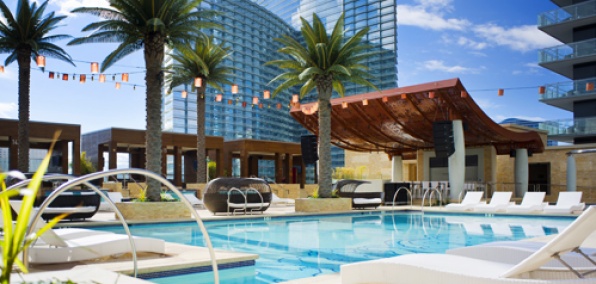 It's safe to say you know the ins and outs of a successful pool party.
Zinc oxide. Inflatable rafts. A keen eye for rising Marco Polo rookies.
And a Victoria's Secret Angel, or three.
Allow us to introduce the
Marquee Day Club Pool
at the Cosmopolitan, an opulent 22,000-square-foot poolside playground dedicated to general waterborne debauchery, opening for the spring and summer season on April 9.
The Day Club is connected to the nightclub, so think of it as bringing the largest mega-club on the Strip into the sun. There'll be the usual suspects—bronzed young things, international house DJs, the occasional Kardashian.
But you'll do your best to get there early to lay claim to the best real estate—white chaises lining one of the two aquamarine pools will do—and talk tanning shop with the brunette blending tan lines beside you.
And before you drift off into a mid-day siesta, we have a feeling you'll want to look into booking one of the eight private Grand Cabanas, kitted out with flat-screens and plunge pools. And if you prefer to keep things under the veil of night (or just want to keep that Marco Polo game going), book a Bungalow Loft through the hotel. It has a roof deck and sleeping quarters, so you won't have to choose between day and night swimming.
Marco...